Posted on : 31-05-2009 | By :
Frankie

| In : GOLF, Jackson
0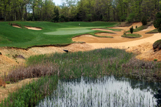 First time playing at Pine Barrens Golf Club in Jackson NJ. It was a rainy day, but the rain help off for a few hours long enough to get in a full round of golf.
This course was not only challenging, it was absolutely beautiful! Taking a pitt-stop to use the bathroom in the club house made me feel like I was in the movie Caddy Shack.